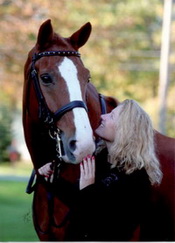 Welcome
Come ride with us at
North Crest Equestrian Center!
We have over 30 years experience teaching children and adults to ride and care for horses.
Try out theTack-up and Ride Special. or get a Gift Certificate for your equine-loving friend. In addition to private lessons, we also host summer camps and birthday parties.
Experienced dressage riders will appreciate our boarding-training program as well as advanced lessons and clinics. North Crest's staff and facilities ensure the best care for your horse.
Click here to write a review of your experience at North Crest!